Why Not Dress in a Mrs Santa Claus Costume This Christmas Holiday?
Dressing up in a Mrs Santa Claus Costume is a perfect choice when it comes down to spreading the joy and happiness of the Christmas holidays.
No matter what you're thinking of wearing your Mrs Santa Claus Costume for; like a Christmas pageant, or office party, or getting together with friends, or dressing up as Mrs Santa Clause for Christmas morning, you're going to add a tad bit of excitement to any gathering you are attending.
Any of these festive Mrs.Santa Claus costumes is most certainly  going to bring a smile out anyone who see you.
The very special magic that surrounds the Christmas season is brought about our customs and traditions and one very important remembered tradition is the annual visit to the Santa Clause North Pole workshop.
Who wouldn't want to pay a visit to Santa's workshop and catch a glimpse of all the elves and Mrs.Clause and of course we can't forget Santa himself?
We all know that Santa needs a little bit of extra help with all the things he must get ready for that very special day of the year. So, without Mrs Santa Claus, the Big Man himself wouldn't be able to complete his Christmas To-Do List in for that special, special day that only comes once a year.
Mrs. Santa Clause Velvet Costume
If you are thinking about dressing up as the first lady of the North Pole, and you know that dear Mr.Claus needs you to be his right-hand woman, you'll love this authentic looking high quality red velvet Mrs Santa Claus Costume.
It's really hard to imagine Mrs Santa Claus in any other color but red and deep velvet fabric is perfect for the North Pole with it's cold and chilly days.
This Mrs Santa Claus Costume comes with the dress, cap, and apron. The red velvet dress is trimmed with white faux fur it's  hem, collar, and long sleeve cuffs.
This Mrs Santa Claus Costume also comes with a red velvet mop hat that is trimmed with white faux fur, perfect for keeping Mrs. Claus's hair neat and tidy.
This Mrs Santa Claus Costume will be a favorite for many years.
Note: This costume does not come with the wig or glasses, but if you need them you'll have to buy them separately.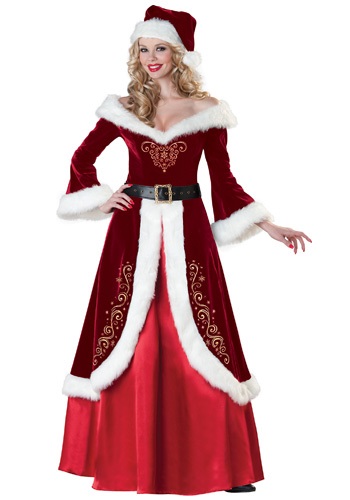 Mrs. St. Nick Costume
This sophisticated elegant Mrs. St. Nick costume is  the perfect way to share some Christmas cheer while looking simply beautiful. Ideal for an exclusive Christmas Party or just the costume for Christmas caroling.
This gorgeous dark red flocked velvet Mrs Claus outfit is complimented with faux fur trim and beautiful gold snowflakes and filigree swirls. Under the red velvet dress is a red floor length underskirt in a brighter shade of red.
To finish off the ensemble there is a gold buckled belt and matching hat.
If you are looking for a Mrs Santa Claus Costume that is more of an outdoor coat type, this one is very nice. It does have a few negative reviews with people not liking the fact that the faux fur does shed but on the other hand if you were looking for better fur you would have too pay a lot more. However, there are more than plenty of very positive reviews so if you can handle a little bit of shedding than you might like this outfit.
More Mrs Santa Claus Costumes to Fill Your Holiday
Women's Adult Mrs.Claus One Size
Women's Mrs. Santa Claus Costume
Mrs. Claus Adult, Classic costume
Mrs. Claus Christmas Costume,
Mrs Santa Claus Costume Accessories
Once you've found the ideal Mrs Santa Claus costume you might want to complete the whole look with a few little Mrs. Santa Claus costume accessories.
Mrs Santa Claus Costume Wigs
There is nothing like finishing your Mrs Santa costume like a silvery wig to wear by itself or under a mop hat. Here are a few Mrs Claus wigs that would make the ideal addition to your costume.
Beautiful Mrs. Claus Wig Costume
Mrs. Claus Wig (Standard)
Mrs. Santa Costume Wig, White, One Size
Mrs.Santa Wig
Mrs.Santa, White, One Size
Mrs. Claus Wig, White, One Size
Mrs Santa Clause Costume Plus Size
Plus Size Adult Mrs.Claus Suit, Red/White, X-Large
Women's Plus Size Mrs. Claus Costume, Multi, XXX-Large
Mrs. Claus Costume – Plus Size 1X/2X – Dress Size 16-20
Mrs. Claus Plus Size (3X)
Mrs Santa Claus Lady Velvet Fancy Costume, Plus (16-24)
Mrs. Claus Christmas Costume (Xlarge – Dress Size 16-18)
Mrs. Santa Claus Long Red Velvet Christmas Costume, S (6-8)
Mrs Santa Claus Deluxe Velvet Holiday Costume, XL (16-18)
The Mrs Costume – X-Large – Dress Size 16-18
I hope this Mrs Santa Claus Costume page has given you a few ideas to add to the festive Holiday fun!
---
Use Our FREE Christmas Gift & Decoration Finder Tool Below.
Just type in the Search Box and you'll get loads of ideas for gifts or decorations!
What can we Help You Find?
Show Me My Deals on Amazon Today
Show Me the 2021 Most Wanted Gifts List